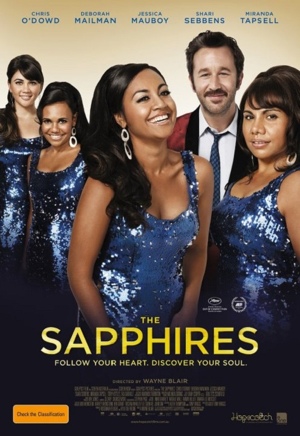 Australian movie 'THE SAPPHIRES' is an upcoming Australian comedy film produced by Goalpost Pictures and distributed by Hopscotch Films, based on the 2005 stage play of the same name. The film is directed by Wayne Blair and written by Tony Briggs and Keith Thompson, the former of which wrote the play. The film is about four indigenous women, Gail (Deborah Mailman), Julie (Jessica Mauboy), Kay (Shari Sebbens) and Cynthia (Miranda Tapsell), who are discovered by a talent scout (Chris O'Dowd), and form a music group called The Sapphires, travelling to Vietnam in 1968 to sing for troops during the war. Production began in 2010, with the casting of the four members of The Sapphires, and filming taking place throughout New South Wales in Australia and Vietnam during August and September of 2011.
The Sapphires made its world premiere at the 2012 Cannes Film Festival on 19 May 2012 during its out of competition screenings, and will be theatrically released in Australia on 9 August.
Look out for Juanita's solo on the soundtrack THE SAPPHIRES (Original Motion Picture Soundtrack) 'People Make The World A Better Place'
Throughout the film you will hear vocals featuring JUANITA TIPPINS, ROB EDWARDS, JONAH LATUKEFU, JADE MACRAE, DARREN PERCIVAL, MAHALIA BARNES & PRINNIE STEVENS, along with the star of the film, our girl JESSICA MAUBOY.
Movie Release – AUGUST 9TH
Soundtrack Release – Out Now!