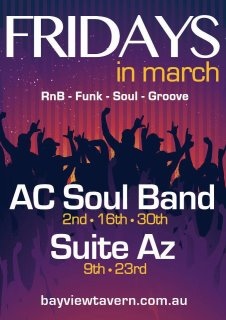 CONTINUING THIS MASSIVE MARCH Suite Az have 2 great live show's west side of the city!!!
***This Friday 23rd March SUITE AZ Kick off another great TGI FRIDAY@ BAYVIEW TAVERN 10PM-1.30AM with resident DJ "BRETT ATKINS"
********** AND **********
***THIS SATURDAY 24TH MARCH SUITE AZ are ready to "Roc' Da West" at CASTLE HILL RSL 8pm-12am
Yes it has been a long time coming, so for all our west side crew – Get to the Castle Hill RSL !!!
CASTLE HILL RSL
77 Castle Street
Castle Hill NSW 2154
Phone: (02) 8858 4800